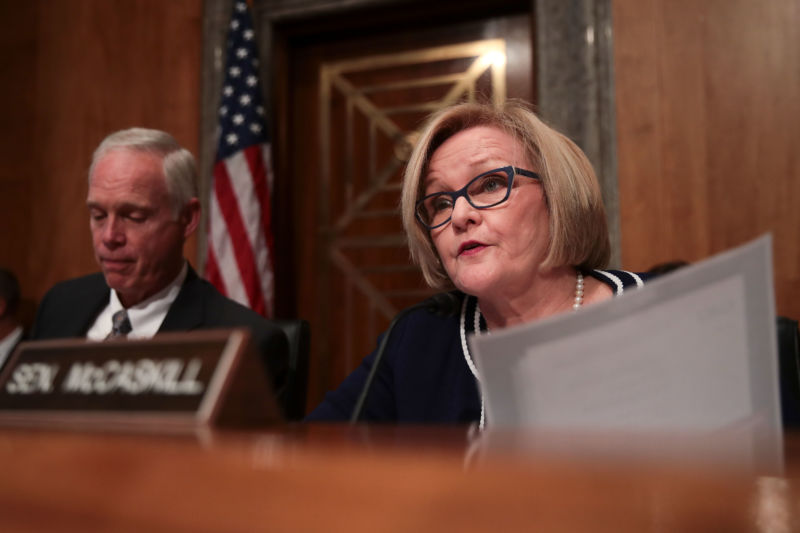 The digital ink was barely dry on Ars IT and National Security Editor Sean Gallagher's feature, "How they did it (and will likely try again): GRU hackers vs. US elections," when the Daily Beast reported yesterday's bombshell: Claire McCaskill, among the most vulnerable Senate Democrats facing re-election this year, was one of three candidates in the 2018 midterm election targeted by the highly determined Russian intelligence agency.
According to the post, McCaskill's office received one or more fake notifications claiming the target's Microsoft Exchange password had expired and advising it be changed. Targets who clicked on a link were directed to a counterfeit version of the US Senate's Active Directory Federation Services login page, which would send any passwords the targets entered to the people behind the fake page. McCaskill has been highly critical of Russia and is considered one of the most vulnerable Senate Democrats facing reelection this year. She represents Missouri, a state where Donald Trump defeated Hillary Clinton by almost 20 points in the 2016 election.
McCaskill's office was one of three candidates that was targeted. The Daily Beast went on to report that the Senate phishing campaign sent each target a different link that caused the fake password-change webpage to display users' individual email address when they arrived. The customization made the site more convincing.
Read 3 remaining paragraphs | Comments
https://spinsafe.com/wp-content/uploads/2016/11/spinsafelogo-1.png
0
0
https://spinsafe.com/wp-content/uploads/2016/11/spinsafelogo-1.png
2018-07-29 13:00:59
2018-07-29 13:00:59
Daily Beast: Russian hackers targeted Democrat facing tough 2018 election