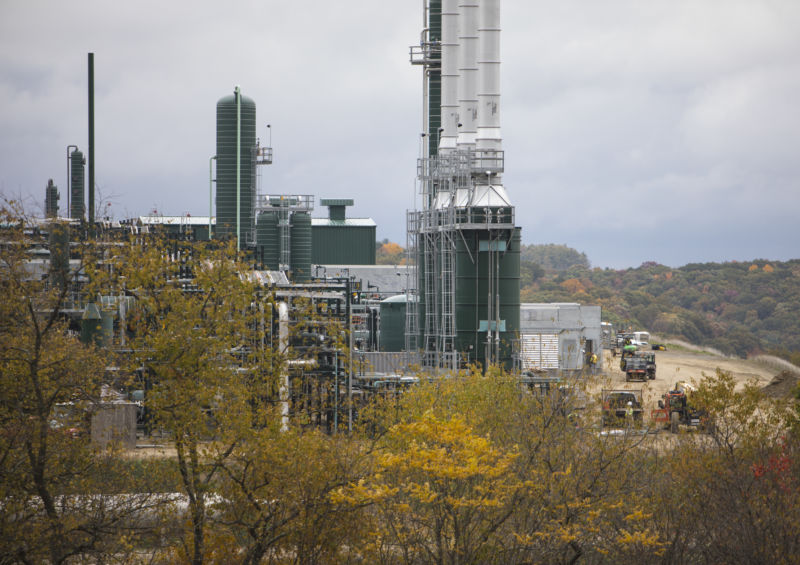 Despite plummeting wholesale electricity prices in some areas of the US as well as essentially flat electricity demand in recent years, natural gas and renewable capacity is still being built.
In 2016, the Energy Information Agency (EIA) notes, natural gas-fired electric generation in the US increased by 3.4 percent; non-hydroelectric renewables like wind, solar, biomass, and geothermal increased by 15.7 percent; and conventional hydroelectric power grew by 7.5 percent. Coal electric generation, on the other hand, fell by 8.4 percent in 2016.
Those numbers only reflect the share of electricity generated by a certain type of fuel, not necessarily how many new power plants came online in 2016. But the natural gas expansion looks like it's still gaining ground in certain areas of the country. According to The Wall Street Journal, at least two power plant companies—Invenergy and Calpine—are going all-out on building natural gas capacity in Pennsylvania and Ohio. Between those two states, Invenergy and Calpine are set to increase natural gas capacity by 8.6 gigawatts between 2018 and 2020.
Read 6 remaining paragraphs | Comments
https://spinsafe.com/wp-content/uploads/2016/11/spinsafelogo-1.png
0
0
https://spinsafe.com/wp-content/uploads/2016/11/spinsafelogo-1.png
2017-12-28 21:01:09
2017-12-28 21:01:09
Gigawatts of planned natural gas plants despite low electricity prices