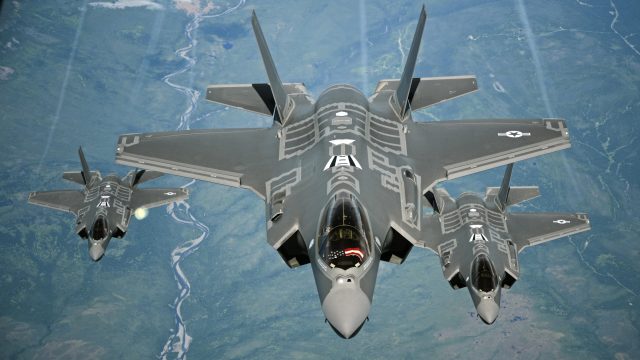 The US Air Force's 56th Fighter Wing at Luke Air Force Base in Arizona today cancelled "local flying operations" for F-35A fighters after five incidents in which pilots "experienced hypoxia-like symptoms," an Air Force spokesperson said in a statement. Hypoxia is a deficiency in oxygen reaching the body through the circulatory system.
"In order to synchronize operations and maintenance efforts toward safe flying operations we have cancelled local F-35A flying," said 56th Fighter Wing commander Brigadier General Brook Leonard. "The Air Force takes these physiological incidents seriously, and our focus is on the safety and well-being of our pilots. We are taking the necessary steps to find the root cause of these incidents."
The cancellation of F-35A operations is currently restricted to Luke Air Force Base, the primary pilot training base for the F-35A. The Air Force also trains F-35A pilots at Eglin Air Force Base in Florida. The 56th Fighter Wing's squadrons at Luke train pilots from the US Air Force as well as from other nations buying the F-35A, including Norway, Italy, and Australia. All the pilots training at Luke will be briefed on the incidents and on the procedures the pilots affected used to successfully restore oxygen and land the aircraft safely, a 56th Fighter Wing spokesperson said. The 56th's Air Operations Group will also hold a forum with pilots to discuss their concerns.
Read 4 remaining paragraphs | Comments
https://spinsafe.com/wp-content/uploads/2016/11/spinsafelogo-1.png
0
0
https://spinsafe.com/wp-content/uploads/2016/11/spinsafelogo-1.png
2017-06-10 05:01:07
2017-06-10 05:01:07
Air Force grounds F-35A operations at training base after pilots suffered hypoxia